From my diary (Linkedin) on that day…
"I could not believe what happened to me this evening. I had a Skype call with Marketing Legend Andrew Wood. We were discussing some ideas regarding using the Covid situation to the advantage of golf as a sport. In the end I suggested that one day perhaps we could shoot a short video-interview for my series of Golf Business Interviews (project I started in the lockdown from home)."
And to my surprise he said: "Ok, let´s do it right now."
Turning the crisis into an opportunity
In 5 minutes we were having a chat on Facebook Messenger. By that time things were looking pretty gloomy for the industry, but we were discussing mainly the ideas of how to turn the crisis into a opportunity for the clubs, golfcourses and the whole industry. Ten months after that, we all know what a ride 2020 was in terms of the participation increase, numbers of rounds played and new players acquisition.
First step on the way to the USA
In the end I also had a chance to introduce very shortly our Bryson application that is able to digitize the training system in golf in each country. What else can you achieve during one evening with such a rubbish English from the middle of nowhere in the countryside of the Czech Republic?
Watch the video for the great ideas of Andrew Wood:
Andrew Wood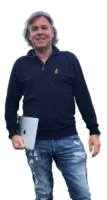 Andrew Wood's Passion in Life is Helping Businesses Maximize Their Sales, Marketing and Growth Potential!
Author of over 20 sales and marketing books including; Cunningly Clever Marketing, Cunningly Clever Selling, Cunningly Clever Entrepreneur and The Golf Marketing Bible. He is considered the world's leading expert in golf, resort and real estate marketing and spoken to thousands of audiences worldwide on this and other topics from his books.
Next: Read the story of one and only Golf Geum Technology in the interview with its CEO Filip Bubrle.
It is the story of a new concept of the golf trolleys that are here to take the world of golf by storm.
Or read our story of how Bryson – the most comprehensive IT solution for digitising the training system in the world of golf – was born.